New police museum secures £6m funding from Westminster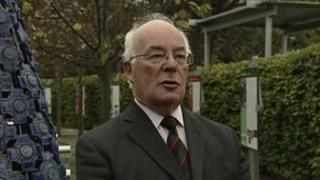 A new museum dedicated to the history of policing across Ireland is to be built in Belfast.
It has been funded by the Treasury in Westminster and will cost £5.5m.
It will be built in the grounds of police headquarters in east Belfast, alongside the memorial to RUC officers who died in the line of duty.
Ireland had the first formal uniformed police service in the British Isles when the Peace Preservation Force was formed in 1814.
The current museum is also housed in police headquarters but is a small, cramped building which doesn't allow the exhibition of all the artefacts collected over 200 years of policing in Ireland.
It is expected that the new two-storey facility will be completed within the next two years. It will be open to the public and free to visit.
The museum will display a variety of policing related artefacts including uniforms, weapons, medals and other memorabilia, some dating back to the early 19th century.
Visitors will also be able to hear a vast oral history archive the RUC George Cross Foundation has built up by interviewing former police officers about their experiences.
It's hoped the new museum will complement a similar display opened at Dublin Castle by An Garda Siochana a number of years ago.
Austerity
The RUC George Cross Foundation will manage the museum. Its members, patrons and guides all work for free.
In the past both Sinn Fein and the SDLP have questioned aspects of the project.
Jim McDonald is the chairman and he said that the museum will be about much more than just the Troubles.
"After a long period of many negotiations and many business cases I am delighted that we have passed the last hurdle," he said.
"I can understand the government in these times of austerity are keen to see that we will be successful but we have no doubt that we have a wonderful story to tell.
"A story of the history of policing in Ireland from 1814, pre-dating, for example, our colleagues in the London Metropolitan Police which only came into vogue in 1829."
The PSNI Deputy Chief Constable Judith Gillespie hopes the new building will showcase the important role policing has played in Ireland.
"Policing has been such a part of the history of the island of Ireland for the last nearly 200 years," she said.
"We led the way in establishing a formal police service on this island for the rest of the UK and the wider world.
"So I think it's entirely appropriate that we should have a proper, modern, fit for purpose museum that will attract visitors from all over the world."
The RUC George Cross Foundation plan to ask the group's patron, the Prince of Wales, to open the building when the project is completed.