Ballymena laundry fire witnesses sought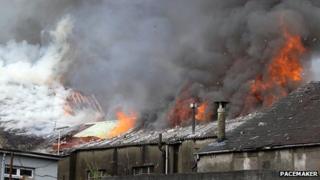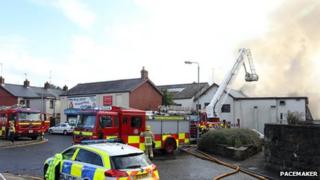 Police investigating a fire at a disused laundry in Ballymena on Tuesday have appealed for information.
About 30 homes were evacuated after the fire broke out at the property on Clonavon Road South at about 16:00 BST.
All residents were allowed to return to their homes on Wednesday, but they have been advised to keep windows and doors closed as it is believed there is a possible asbestos risk in the building.
Police said they wanted to speak to three teenagers seen in the area.
They are described as being 14 or 15 years old, and all three were wearing hooded tops.
The cause of the fire is still being investigated.
One resident, moved from her home, said she saw a "big fireball".
"Then the police were knocking on the door telling us to leave the house," she said.
"It was really scary and knowing that the oil tanks were on that side close to the fire was scary too."
Fifty firefighters, six pumps and two aerial appliances were deployed to tackle the blaze.
SDLP councillor for the area, Declan O'Loan, said it had been "difficult for people".
"It is good that there was emergency provision made by the council and made very rapidly," he said.
"I know there were some people who really didn't want to leave because they were concerned about their homes."