Badger baiting accused fail to have bail conditions relaxed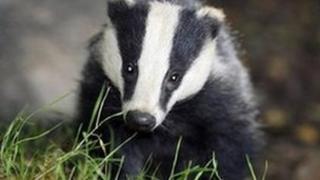 The High Court in Belfast has heard a badger was torn to shreds by dogs as a group of men cheered on the pit bulls.
The claim was made by a prosecution lawyer during a hearing for two Belfast brothers charged after a police investigation into animal cruelty and illegal dog fighting.
Six others have also been charged.
Gary Kirkwood, 18, and his brother Wayne, 19, both from Island Street, were in court to seek variations to conditions to their bail.
It was granted by a district judge earlier this month.
The brothers are among six members of their family who have been charged in relation to the cruelty allegations which surfaced after police viewed video footage on a phone of alleged animal fights.
Two other men have been accused of a wide range of offences.
On Monday, a prosecution lawyer alleged in court that the attack on the badger came after it had been forced from its set and it was dazzled by a lamp before the dogs killed it inside just four minutes.
He said dogs had been specifically bred for badger baiting and said domestic cats had been stolen to 'blood' the pit bulls and lurcher-type dogs.
The lawyer said the video footage showed that men encouraged the dogs as they attacked badgers and cats, which were dragged out of cages.
He said that a number of puppies and illegal adult dogs were found in raids on properties during the investigation by police and the USPCA.
Police said they had encountered 'an element of hostility' as they carried out follow-up inquiries into the animal cruelty.
The Kirkwood brothers wanted electronic tags removed but police objected, saying they believed they could re-offend.
The prosecution lawyer said the digging up of badger sets usually took place at night.
A lawyer for the brothers said they were content to comply with all the other conditions of their bail but their application was rejected and they must continue to wear their tags.
Earlier this year, BBC Newsline carried out a series of reports into a USPCA operation which been tracking one gang for some time.