Over £1m to police Olympic torch relay in Northern Ireland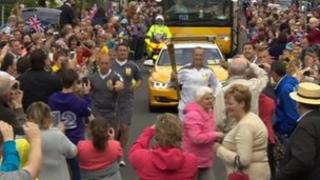 It cost the PSNI more than £1m to police the Olympic torch run in Northern Ireland.
The figure was revealed following a Freedom of Information (FOI) request by the BBC to the police.
The exact cost to the taxpayer was £1,029,749.
In comparison, according to a Metropolitan police briefing paper, it cost the Met almost £750,000 to police the Olympic torch relay in London.
The Metropolitan police force covers Greater London which has a population of almost 8m people, and the torch relay was in the city for seven days.
The Olympic Torch Relay travelled around Northern Ireland for five days from 3-7 June.
Terrorist threat
Local torchbearers carried the flame on its journey through scores of cities, towns and villages and tens of thousands lined the streets to see it in their local area.
Some might be surprised it cost less to police the relay in London, as it also faced a potential terrorist threat.
The FOI request also asked the PSNI's Freedom of Information Department how much it cost to police the Queen's Jubilee visit to Northern Ireland but that was turned down on 'national security' grounds.
In its response, the police said: "If the PSNI was to provide overall costs of providing security to these named Royal figures it would compromise personal safety arrangements for these specific individuals.
"There is also the possibility of a mosaic effect being established whereby disclosed information could be matched with unofficial information to form comparisons with other Royal and public figures that may or may not be in receipt of protective security arrangements."
The response to the request added: "The release of information will also reveal policing tactics regarding these key figures of the Royal Family, and could be used to form part of a wider assessment of levels of protection afforded to others not subject to this request.
"The release of this information would therefore be to the detriment of another who may not be in receipt of similar levels of protection.
"To reveal information which exposes levels of protection to those intent on causing harm would increase the risk of harm to those individuals and to others who may be caught up in an attack, such as Royal Family staff and members of the public."