Belfast's Olympic boxers in open-top bus welcome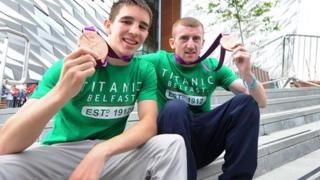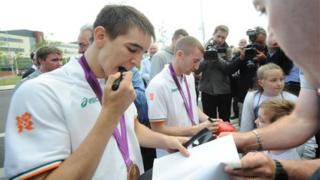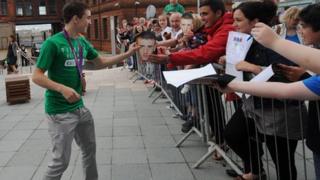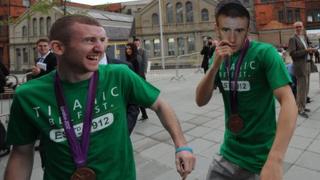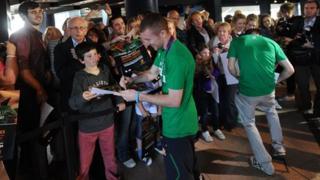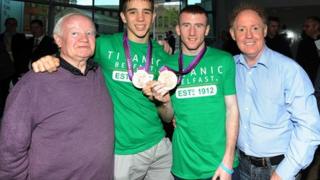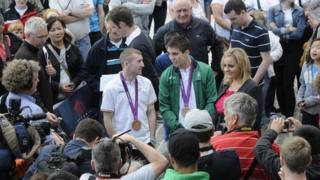 Crowds have turned out to see Belfast's Olympic bronze winners Paddy Barnes and Michael Conlan being driven through the city centre on an open-top bus.
Barnes, 25, who also won bronze in Beijing, became the first boxer from the island of Ireland to win medals at consecutive Games.
Conlan, 20, won his first medal in his Olympic debut.
The bus was driven from Writer's Square, down Royal Avenue and Donegall Place and ended up at the City Hall.
Barnes said he was amazed by the welcome they had received.
"For everybody to come out for us like this, it's overwhelming," he said.
Conlan said Barnes had been telling him about what response they might expect but it had still taken him by surprise.
"I've already signed over 1,000 autographs," he said.
Conlan dismissed talk of him turning professional, and said he was "definitely going to Rio" where the Games are to be staged in four years' time.
"I want to go two steps further and with support like this, anything's possible," he said.
After the bus-top procession, the two boxers were greeted by the Deputy Lord Mayor of Belfast, Tierna Cunningham, standing in for Lord Mayor Gavin Robinson, who is on holiday.
A mural paying tribute to Michael Conlan's achievement has already been painted on the corner of Violet Street, off the Springfield Road in west Belfast.
Northern Ireland's other Olympic medallists, Team GB rowers Alan Campbell and brothers Peter and Richard Chambers, will be welcomed back to their home town of Coleraine on Wednesday.