McIlroy hailed as 'wonderful ambassador' after US PGA win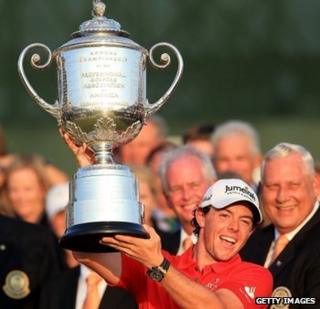 County Down golfer Rory McIlroy has been hailed as a "wonderful ambassador for Northern Ireland" following his triumph in the US PGA Championship.
He finished eight shots clear of English golfer David Lynn to claim his second Major.
Northern Ireland First Minister Peter Robinson and Deputy First Minister Martin McGuinness described McIlroy's victory as "magnificent".
McIlroy's success follows his 2011 US Open win.
Mr Robinson said: "After winning his first major golf title last year, Rory McIlroy has now become the first golfer from Northern Ireland to win a second major title.
"His golfing talent knows no bounds and who knows what he may go on to achieve in his sporting career.
"He is a wonderful ambassador for Northern Ireland and his sport and I congratulate him on this magnificent victory."
Mr McGuinness also praised the Holywood golfer for his "tremendous win" at Kiawah Island in South Carolina.
"He has bounced back from what was a somewhat indifferent season by his own high standards with an amazing victory in the last of the 2012 'majors' and this is the sign of a true champion," he added.
Northern Ireland Sports Minister Carál Ní Chuilín said McIlroy's triumph was "the crowning moment in a stunning sporting fortnight".
"Well done Rory - you, our boxers and rowers are quite simply an absolute inspiration," she said.
Taoiseach Enda Kenny said McIlroy's victory was "further confirmation of his enormous golfing talent and a clear signal that he has the potential to become one of the greats of the game".
"Irish golf is going through an amazing period of success and Rory is at the vanguard of that charge," he added.
McIlroy, 23, said winning the US PGA Championship had left him "speechless".
His win means he has returned to the world number-one spot.
"I got off to a bit of a shaky start, but settled into it and I thought my putting today was phenomenal," he added.
"Thanks dad and thanks mum - I'm sure she's watching at home.
"I had a good feeling at the start, but I never imagined doing this.
"It means an awful lot to look at the names on that trophy and put mine alongside them."
McIlroy's second Major victory is the latest success in a tremendous spell for Northern Ireland golf. Darren Clarke won the Open Championship in 2011 after Graeme McDowell had claimed the US Open title the previous year.
Family and friends gathered at McIlroy's home golf club in Holywood on Sunday night to watch the closing holes of the US PGA Championship on television.
Among them was his cousin, 13-year-old Fergus McIlroy, who is also a keen golfer.
He said he believed there were "plenty more Majors to come".
"He is not even at his peak yet, so it is just going to get better really," he added.