Jim Wells responds to his re-tweet making fun of Irish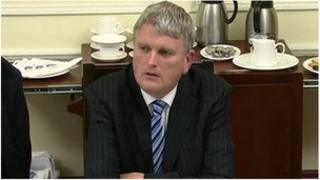 DUP assembly member Jim Wells has said he did not mean to re-tweet a comment making fun of the Irish.
On Saturday night, the South Down MLA re-tweeted a post from one of his followers on the micro-blogging site.
It said the Irish had taken the gold, the lead from the roofs and the copper piping from the changing rooms.
Mr Wells said the message should have been deleted and not forwarded and that he has now deleted the post and blocked the sender.
A DUP spokesman said the comment was "mistakenly re-tweeted".
"In the midst of reading and sending many different tweets last night relating to the Olympics, Jim mistakenly re-tweeted a comment from another user which referenced an Irish medal winner," he said.
"The re-tweet has now been deleted and the original poster blocked from Mr Wells's account.
"Unfortunately in the social media world, many people were able to see the offending tweet before it was deleted.
"We also understand there is some debate as to whether a re-tweet counts as an endorsement but in this case it has been deleted to help avoid any offence."