NI Fire Service staff work in 'culture of fear'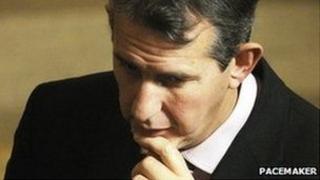 The Northern Ireland Fire Service has come under scathing attack in an investigation carried out by the Department of Health.
The BBC has learned that among the many criticisms are "that staff are working in a culture of fear and mistrust".
Unauthorised bonuses and outstanding grievances have all been highlighted as causes of concern.
All of this comes on the day when a new chief executive flies into Northern Ireland to take up the temporary post.
There has been considerable unrest in the Fire Service over the past couple of years. In fact, it has had three chief fire officers and chairmen in as many years.
The new interim chief executive is Jim Wallace, currently employed by the Scottish Government, who has previous experience with the Scottish Fire and Rescue Service.
Interim chief
It is also significant that the duties, and indeed the title, are now being split.
Mr Wallace will be interim chief executive with managerial responsibilities, but Chris Kerr will continue as interim chief fire officer managing operations on the ground.
Up to Monday that role was combined.
The reason seems to lie in the internal audits, that have been seen by the BBC but are not yet published and indicate serious failings on the people, management and accountability side of the job.
According to the Northern Ireland Fire Service, Mr Wallace's appointment is "temporary to provide an opportunity for a fundamental and comprehensive review of the structures within the organisation".
Since allegations were made by whistle blowers - that is, people who work inside the fire service - the Department of Health carried out its own internal audit review of practices within Northern Ireland's Fire Service.
Alongside that audit, there was a series of independent reviews, including one into the recruitment of fire fighters last summer. That is still ongoing.
The BBC understands that the Department of Health's internal audit has found that staff "are working in a culture of fear and mistrust".
Although this was highly embarrassing for those who are in charge of the organisation, there is no suggestion that capabilities in tackling fires were affected by this.
Damning
It does, however, raise serious questions about morale among the men and women who work for the organisation.
The report also highlights what it terms "the length of time it takes to develop and implement new policies," and damningly, in terms of management, said there was "at best a casual approach by some staff to applying and adhering to existing policies".
It also said there was a culture of shifting blame.
The BBC understands there are outstanding grievances relating to alleged harassment against one person who continues to work in the organisation.
Up until recently these had not been acted upon either by senior staff within the Fire Service, or by senior officials within the Department of Health.
The report specifically said there were issues "regarding the behaviour of senior staff, how they manage their staff and how they manage policies".
The internal audit also identifies serious governance issues throughout the organisation.
In fact it said there appeared to be "systemic problems which have been exacerbated by a lack of strategic direction and guidance from the very top of the organisation".
For instance, an independent audit carried out last year had 85 recommendations, many of which still are not implemented.
Considering all of this, perhaps Mr Wallace has been appointed, in effect, to trouble-shoot.
Relationships
The procedures around the granting of bonuses to four members of staff have also been been questioned as to whether they adhered to guidelines.
The report also raises questions over tendering procedures and relationships among some members of staff with suppliers.
Another area which has caught the eye of at least two MLAs is recruitment as they have already tabled Stormont questions relating to the make-up of recruitment appeals panels last summer within the Fire Service.
Morale among staff is extremely low.
Some of the descriptions from current and ex-staff members are that the organisation is "toxic," it is a "survival of the fittest," a "rat race" and that in some areas the "moral compass had gone askew".
One ex-fire fighter, who quit on medical grounds a number of years ago, told the BBC it was "tragic" that after almost two decades in the service, he left under such circumstances.
"From working through headquarters, I would describe it a rat race," he said. "It felt like Dodge City where you had people doing their own thing in their own way.
"(There was) a lot of stress in that environment because you did not know who you could relate to, you did not know who you could trust.
"If you had a problem, you could not really talk to anybody about it because their whole role in being in headquarters was promotion.
"They were not interested in helping and coming to terms with issue and problems."
Last month, one of the whistle blowers, Linda Ford, won £20,000 in compensation after she took a case against the Fire Service.
Linda Ford, who is a senior accountant, was suspended from her job after she made 13 allegations about the service.
'Different atmosphere'
Of those allegations, the BBC understands two are substantiated, three are largely substantiated; two partly, while one is inconclusive, three are still under consideration and another has since been dropped.
The information contained in the internal audit will undoubtedly tarnish the positive public perception of Northern Ireland's Fire Service.
However, it is important to note that it is not the fire-fighters, the men and women who are the public face of the organisation and are often risking their lives to save others.
Instead it is a small number at the "top of the organisation".
In documents seen by the BBC, the Health Minister, Edwin Poots, wrote to the chair of the Health Committee, Sue Ramsey, saying there was a need for "major re-organisation".
Also, his permanent secretary, Andrew McCormick, wrote to the chair of the Fire Service, Joe McKee, expressing the need for "a swift and comprehensive response".
Whether or not the organisation can recover from all this is a challenge facing Jim Wallace and other senior staff.
Next year, Belfast hosts the World Police and Fire Games.
This is huge for Northern Ireland when there will be about 10,000 competitors from around 70 countries.
The service will want to be united both in public and in private for that event.