Jordan's paralympic team arrive in Antrim Forum for training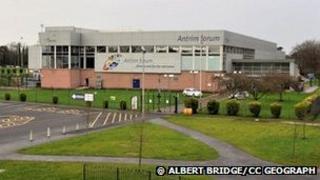 The Jordanian paralympic team have arrived in Northern Ireland for final training ahead of the games in London later this month.
The delegation of 19 athletes and coaches are setting up their pre-games training camp at the Antrim Forum.
The athletes will compete in the power-lifting, athletics and table tennis.
Nine countries have been holding pre-games training camps in Northern Ireland.
Sports Minister Carál Ní Chuilín said she wanted to wish the Jordanian team "every success".
'Goodwill'
"We've welcomed 17 different countries in the last month for their pre-games training camps and over 1,000 athletes in the last 12 months for pre-games training events and qualifiers," she said.
"It is my hope that all these athletes leave prepared for the competitions ahead, and use these experiences as a springboard to sporting success.
"But they also take with them the goodwill of local people and support of the communities where they trained."
The team will remain in Antrim until a week before the games begin in London on 29 August.
The Chinese Olympic men's and women's artistic gymnastic teams trained at Salto National Gymnastics Centre in Lisburn.
The Australian Olympic boxing team trained in the Greater Belfast area and athletics teams from Qatar, Sudan, Egypt and Kuwait also set up camp.
The Cuban boxing team also selected Belfast as its training base ahead of the Olympic Games in London.