Conor Murphy claims Danny Kennedy 'ignored' legal advice in DRD case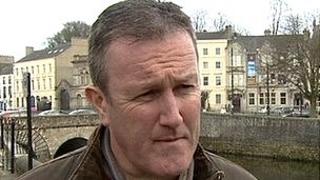 Sinn Fein's Conor Murphy has said the Regional Development Minister, Danny Kennedy, must explain why he "ignored legal advice" from NI's top lawyer.
Mr Kennedy decided not to appeal an employment tribunal decision that found that a Protestant job applicant had been discriminated against.
The tribunal criticised the Department of Regional Development (DRD) which was headed by Mr Murphy at the time.
The decision not to appeal went against advice from the attorney general.
Mr Murphy strongly disputes the tribunals findings which he claimed branded him as "sectarian" and the Sinn Fein representative has demanded that they be challenged by his former department.
'Errors'
Following the row between Mr Murphy and Mr Kennedy last week, the BBC reported the Attorney General John Larkin had expressed his firm view the tribunal's ruling should be appealed.
In a letter, dated 20 July, Mr Larkin concluded the tribunal's approach to evidence was erroneous, its reasoning was flawed and that the decision was "riddled with errors".
On Tuesday, the Sinn Fein MP said: "I have always believed that the findings of the tribunal in this case are deeply flawed.
"It has now emerged that various legal opinions sought by the department, including one from the attorney general, backed this view and urged the minister to appeal.
"Danny Kennedy now needs to make an urgent public statement explaining the rationale for his decision given the legal opinion that is now in the public domain," Mr Murphy added.
'Absurd'
The tribunal found that the DRD had discriminated against Alan Lennon, a Protestant, when he sought to be appointed chairman of Northern Ireland Water in March 2011.
It concluded that evidence from the then minister, Conor Murphy, was "implausible and lacking credibility".
It also found that Mr Murphy had broken the code of practice for appointments by introducing new criteria.
However, in his letter, the attorney general questioned the finding that Mr Murphy added additional criteria and therefore breached the code for appointments.
He said this finding "borders on absurd" and suggested the minister was not introducing additional criteria but giving examples of how existing criteria were met.
It has also emerged that a second legal opinion from the Bar Library's Noelle McGrenera QC and Martin Wolfe, points to "arguable errors of law".
This opinion sharply criticised the tribunal's conclusions about Mr Murphy's credibility.
Last week, the current DRD minister, Mr Kennedy, said substantial public money had already been spent contesting the case and it was his opinion that an appeal was not in the public interest.