Thousands attend Belfast annual Pride parade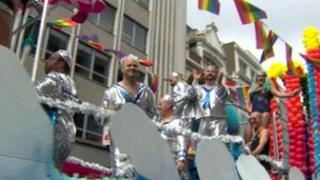 Thousands of people lined the streets of Belfast city centre for the annual Pride parade on Saturday.
Now in its 22nd year, the Belfast parade is claimed to be the largest of its kind in Ireland and in the top ten in the UK.
The parade began at 12:00 BST at Custom House Square making its way to City Hall and round Castle Place.
Road users were told to expect traffic disruption during this time.
A protest against the parade took place close to Belfast City Hall.
The theme of this years parade was "Pride at Sea".
A free party in Custom House square got underway at 11:00 BST which was headlined by X Factor finalist Kitty Brucknell.
Meanwhile, over on Union Street another street party featuring The Cheeky Girls began at 17:00 BST.
Earlier this week the DUP attended their first gay pride event as part of Pride Talks Back at the Europa Hotel.
Belfast Lord Mayor Gavin Robinson joined representatives from the other major parties at the event to debate issues such as equal marriage.
The 2012 Belfast pride celebrations began last week with a special performance from Eurovision winner Katrina Leskanich of Katrina and the Waves.
The programme of events continues into Sunday with a church service at All Souls Church at 15:00 BST and a Sunday cabaret with Barbara Bryceland from television show The Voice.
The hour-long parade took the follwing route: Queens Square - High Street - Bridge Street - North Street - Royal Avenue - Donegal Place - Donegal Square North - Donegal Square East - Donegal Square South - Howard Street - Upper Queen Street - Queen Street - Castle Street - Castle Place - High Street - Queens Square.