Sinn Fein 'distances itself' from Sean Quinn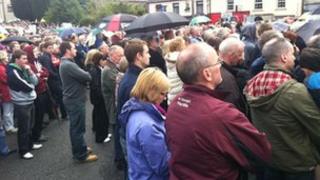 Sinn Fein has distanced itself from the Fermanagh businessman Sean Quinn.
Last week Fermanagh and South Tyrone MP Michelle Gildernew told a local paper Mr Quinn was an ordinary man treated disgracefully by the Irish government.
However, on Tuesday night the party's deputy leader Mary Lou McDonald said the Quinns had engaged in questionable business practice.
She said that loyalties and emotions should not get in the way of justice.
Mr Quinn has been embroiled in a legal battle over the debts he owes the Irish Bank Resolution Corporation, formerly the Anglo Irish Bank.
On Sunday, thousands turned out in Ballyconnell, County Cavan, to support Sean Quinn.
Sinn Fein's Michelle Gildernew also lent her support.
"He has been treated disgracefully by the Irish government," she told the Impartial Reporter newspaper.
"Had they not tried to strip him off all his assets, including his home, deny him the ability to function in business, and routinely try to humiliate him I believe he would have paid back every penny he owed to the Irish taxpayer.
"He accepted he had done wrong, but all our attempts to make the government show some common sense were ignored. He is being punished for having the audacity to buy the bank and for being an ordinary man from Fermanagh who is hugely respected by his community," she said.
'Strong emotions'
However, Sinn Fein deputy leader Mary Lou McDonald took a different view on Tuesday night, saying money owed to the bank was money owed to the state.
"There are strong emotions in support of the Quinns," she said.
"This is understandable, however, neither loyalty nor emotion can be allowed to get in the way of justice being done in the Quinn case or, indeed, any other that may arise.
"The matter is before the courts and that is where the final judgement will be made.
"The Quinns chose to put a lot into the public domain concerning their case, including the fact that company law was breached and that they have moved assets beyond the reach of IBRC.
"As the IBRC is now fully state-owned, money owed to it by the Quinns is money owed the state.
"The Quinns have an obligation to abide by the law the same as any other citizen. They also have an obligation to work with IBRC to repay what they owe."
For many people in the border Sean Quinn is simply the man who brought jobs and prosperity.
But further south, people may be more concerned with the billions in debt he left behind, the hundreds of millions he tried to hide and the insurance levy due to mismanagement at Quinn Direct.
So, despite the numbers on the streets, political support is getting thinner on the ground.