Police investigate claims mortar fired at PSNI vehicle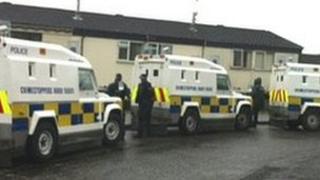 The police are continuing to investigate reports of a mortar attack and a shot fired at one of its patrols in west Belfast on 27 July.
On 30 July, police said they were investigating a report of a shot fired at a police vehicle on the Glen Road.
The shot caused a minor dent to the Land Rover, but there was no scorch damage.
A section of the road was closed on 1 August for further police investigations. It is now open.
The police said they had completed their searches and nothing untoward was found.
A police spokesman said: "We would again ask members of the public to contact police if they find any suspicious objects in this area.
"Do not touch or attempt to move the item but contact your local police immediately."
'Potentially murderous attack'
On Monday, Chief Superintendent George Clarke said it had been a "reckless and cowardly attempt to kill a police officer".
"It is completely unacceptable that officers who were carrying out their professional duty on behalf of the community should be subjected to a potentially murderous attack," he said.
He said it also put the "lives of the local community in danger and it is fortunate no-one was injured or worse".
"These people who carried out such a senseless attack show a total disregard for the safety of those living in this area. They will not prevent us from delivering a protective service and we will put in place any measures necessary to take a robust stance against those who are determined to disrupt and attack their own community."