Gavin Robinson is first DUP representative to attend a gay pride event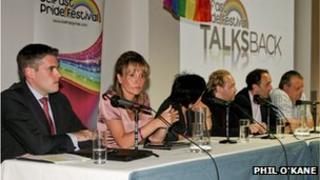 A leading DUP politician has attended a gay pride event in Belfast - a first for a party which is known for its outspoken opposition to homosexuality.
Gavin Robinson, lord mayor of Belfast, took part in the Belfast Pride Talks Back debate on Tuesday evening.
He said he had accepted the invitation because he wanted to "engage with every section of our society".
However, he said it was still the DUP's view that marriage should be between a man and a woman.
The 27-year-old councillor was elected as lord mayor last month, and at the time, he said he hoped to "represent all citizens of Belfast".
'Learning curve'
Mr Robinson said he was pleased to be at the meeting which was held in a Belfast city centre hotel and was attended by about 300 people.
"I believe a shared understanding will be of benefit to the city," he added.
Other speakers at Tuesday's event included Sinn Fein MEP Martina Anderson, Conal McDevitt from the SDLP, Ulster Unionist Michael Copeland, Anna Lo from Alliance and Stephen Agnew from the Green Party
Ms Anderson welcomed the DUP's involvement calling it a "pinch yourself moment".
"The DUP are on a learning curve and it was good to see Gavin here tonight. I'm glad he accepted the invite and I hope it's a sign of things to come," she said.
In recent years, some of Mr Robinson's DUP colleagues have been criticised for public comments they made about gay people.
In 2007, Ian Paisley jnr gave an interview to an Irish magazine in which he said he was "repulsed by gay and lesbianism".
Ban
Two years later, Iris Robinson - the wife of DUP leader Peter Robinson - described homosexuality as an "abomination" during a BBC interview.
She claimed that gay people could be "turned around" with psychiatric counselling.
Mrs Robinson was chair of the Stormont health committee at the time she made the comments, but has since left politics.
More recently, the current Northern Ireland Health Minister, Edwin Poots, has ensured that a lifetime ban which prevents gay people from donating blood remains in force in Northern Ireland.
This is despite the rules having been relaxed in other parts of the UK.
The annual Belfast Pride Parade will take place on Saturday.