Peter Darragh Quinn photographed at GAA match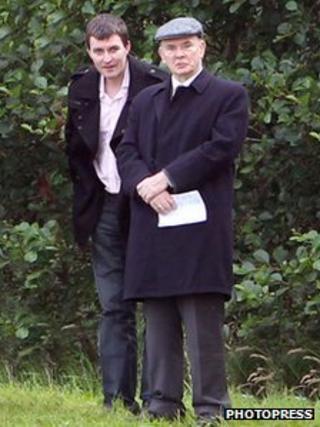 Peter Darragh Quinn, who is wanted by the authorities in the Republic of Ireland, has been photographed at a sports event in Northern Ireland.
The nephew of the bankrupt former billionaire, Sean Quinn, was sentenced to jail in his absence on 20 July after he failed to turn up at a Dublin court.
He was due to be sentenced for contempt of court alongside his cousin, Sean Quinn Jr, who is now in prison.
A judge found that all three men hid millions in assets from an Irish bank.
Arrest warrant
Peter Darragh Quinn was pictured at a Gaelic Athletic Association (GAA) match in Kinawley, County Fermanagh on Friday, alongside his father Peter Quinn Sr.
The photograph has now been published in a Sunday paper and a local newspaper
An arrest warrant was issued for Peter Darragh Quinn on the day he failed to appear at the High Court in Dublin.
His lawyer told the court that his client was too ill to attend the sentencing, but shortly afterwards there were reports that he had returned to his home in Northern Ireland.
The authorities in the Republic of Ireland cannot force him to serve his sentence if he has left their jurisdiction.
Last month, an Irish judge ruled that he, alongwith his uncle Sean Quinn Sr and his cousin Sean Quinn Jr, were in contempt after they put international property worth millions of pounds beyond the reach of the former Anglo Irish Bank.
Bailed out
The failed bank was bailed out by Irish taxpayers and is now controlled by the Irish Banking Resolution Company (IBRC).
The IBRC claims the Quinns owe it about £2bn and is trying to recover the money from their property assets on behalf of Irish taxpayers.
Sean Quinn Jr is serving an indefinite sentence in Dublin's Mountjoy Prison.
His father avoided jail but must co-operate with the IBRC within three months.