Sean Quinn says jail scares him but he remains proud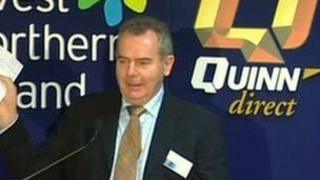 Bankrupt businessman Sean Quinn has admitted he is scared of being sent to prison but said he would not shy away from it.
Mr Quinn's son and nephew have been jailed in the Irish Republic for contempt of court, after breaching an order not to put 500m euros of overseas property assets beyond the reach of the Irish Bank Resolution Corporation.
The former billionaire from County Fermanagh said: "I believe we have been made scapegoats from day one and Anglo has used this situation."
In an interview with Irish radio station Shannonside , he said: "This is the best thing that ever happened to Anglo because for two or three years prior to the Quinn situation coming up, they were the most hated company in the history of the state.
'Greatest losers'
"Now all of a sudden, they're being seen as the good boys and claiming taxpayers' money back from the Quinns while getting the limelight taken away from them.
"I feel it's an extraordinary situation because if you were to go a little bit further down the line, Anglo are the greatest losers in the history of the state.
"The worst company in the history of the state is owning and managing one of the best ones."
He added: "They are doing everything in their power to destroy us and they've done a damn good job of it."
While Mr Quinn's son Sean Jnr has begun his prison sentence, his nephew Peter Darragh Quinn failed to appear for sentencing and a warrant has been issued for his arrest.
'Pride'
Mr Quinn said his nephew seemed to have "a desperate fear of prison", and while he was also scared of going to jail, he was willing to do so.
"If you've been running a business for 38 years, you're approaching your 66th birthday, you've never owed a man a penny or done anyone any grievance in your life, and you feel hard done-by and try to protect yourself and your family, but go to prison, well if that's the society we're living in, I'm happy to accept that.
"Do I think it's wrong? Am I afraid of it? Yes I am.
"Will I back off it? Will I lose my pride? I won't.
"If Anglo feels it hasn't done enough damage to me already by taking my money, my company, my reputation, if they want to finish it off by putting me in prison, then so be it - I'll accept that."
The Irish state bailed out the Anglo Irish Bank in 2009 when it failed, at a cost of about 30bn euros (£23.4bn) to taxpayers.
The IBRC's function is now to recover money for the Irish taxpayer.
The bank is owed £2bn by Sean Quinn and sought to recover some of that from property owned by him in Russia and Ukraine.
However, the bank found itself locked out of the company that controlled the Quinn property portfolio and found that the money and ownership was disappearing into a network of companies across the world.
'PR campaign'
Ireland's Supreme Court is to hear an appeal in October by Sean Quinn Jnr against the findings of contempt against him and his committal to prison.
Mr Quinn said it was "sad to see what has happened" to his companies, but he believed his family would eventually be vindicated.
"I was never one to run away from trouble - I intend to continue to fight my corner and try to redeem our reputation in some way," he said.
"It's very difficult when you see the PR campaign that Anglo have built up against us.
"A lot of the media would be very anti-Quinn and have fallen hook, line and sinker for the Anglo story where they are the good guys.
"It's difficult to turn that but I hope the public are able to get the proper story in time."