Providence Resources finds 'more than 1bn barrels of oil' off Irish coast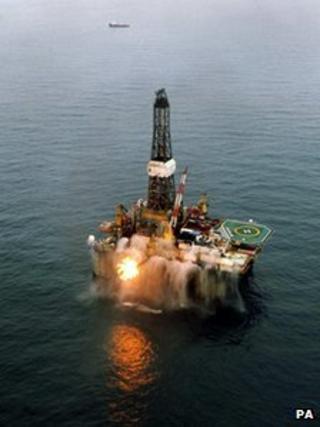 An Irish oil exploration company has announced that it has found between 1bn and 1.6bn barrels of oil in Ireland's first commercially viable oil well.
Providence Resources has been carrying out tests at the Barryroe oil well 70km off the coast of County Cork.
The company's chief executive, Tony O'Reilly Jr, said it was a large and significant discovery that was four times bigger than they had expected.
The firm is also exploring a site near Rathlin off the Northern Ireland coast.
'Positive'
Mr O'Reilly Jr told BBC Radio Ulster: "It's a big resource by any standard - obviously very big for Ireland, but also even from a UK perspective, North Sea perspective, it would rank up there as one of the bigger discoveries."
He said the Barryroe find was a "positive development" that he hoped would attract inward investment and spark further interest in oil exploration off the Irish coast from other firms.
Irish Green Party leader Eamon Ryan said he was wary of quoted figures over oil resources which had not yet been tested.
"Oil may be there but there is a limit on how much you can get out, and this is still only a tiny fraction of what would be used," he said.
"Like any drilling at sea, there are risks to it - the highest standards need to be applied."
Providence Resources is currently exploring six sites off the island of Ireland, including those off County Cork and Rathlin island.
Back in March, Providence Resources revealed that its tests at Barryroe had confirmed there was enough oil at the site to declare it as the first commercially viable oil well in Ireland.
On Wednesday, the firm released more detailed estimates of the amount of oil present and said its figures had been "independently verified".
"Now it's a question of moving it forward to how much of that oil can we get out of the ground and how quickly can we do it?" Mr O'Reilly Jr said.
"The first thing you always want to start off with is do you have a big enough cake and then it's a question of how do you slice that cake to optimise the return for your shareholders and indeed all the stakeholders?"
The chief executive said his firm had been involved in oil exploration in "various corporate guises for 30 years" and explained that the well in question was the sixth they had drilled at the Barryroe structure.
Employment
He added that Providence Resources would now have to go through "due process" in order to secure permits to extract the oil, which would include a period of public consultation.
He also said that his company would probably bring in third parties to assist in the oil extraction but said there would be "no shortage" of interest from other firms.
"The island of Ireland is a pretty good place to do business. The fiscal regime in Ireland for oil and gas exploration and exploitation is probably one of the more attractive fiscal regimes in the world."
Mr O'Reilly Jr claimed that if if the project could be successfully developed to bring oil ashore there would be benefits for taxpayers as well as shareholders in the form of tax, employment and "security of supply".
He told the BBC: "The exchequer would get sizable income from the successful exploitation of offshore fields both in Northern Ireland and the Republic."
James Robinson, RSPB's Northern Ireland director, said he would be "really worried" if oil extraction were to go ahead around Rathlin Island.
"Rathlin is a Special Area of Conservation, (SAC) and a Special Protection Area (SPA) and the RSPB would like the UK government not to license oil and gas exploration in these areas, as they are too important for wildlife," he said.
"This industry isn't safe - and a lot of the information that we have suggests that the potential impacts of oil drilling on Rathlin Island and how these could be mitigated in the future have not been fully explored.
"In general, we are in support of renewable forms of power - wind and solar for example. These forms of energy do not contribute to climate change and can be easily managed to prevent disruption to wildlife."