Warrant issued for former hunger striker Tom McFeely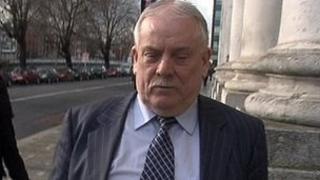 An Irish arrest warrant is being issued for Tom McFeely, an IRA hunger striker turned developer, over a 24,000 euros debt.
The Dublin District Civil Court ordered his arrest after he failed to comply with an order to pay instalments on the debt owed to MCR Personnel.
The company specialises in recruiting for construction firms.
Mr McFeely could face three months in prison for failing to pay the debt.
In a separate case, the Circuit Court granted the Republic's National Asset Management Agency (Nama) repossession of the house on Ailesbury Road in Dublin where Mr McFeely's wife Nina and two of the couple's children live.
They were given until the end of this month to move out.
Meanwhile the Supreme Court has reserved judgment in Mr McFeely's appeal against a three-month prison sentence imposed by the High Court for failing to remedy fire safety defects at the Priory Hall apartments development.
In October 2011, more than 240 residents of the apartments in Dublin were moved out of their homes.
The action was ordered by a court which heard that safety regulation breaches were so serious, a fire could spread through the whole building in minutes.
Mr McFeely is also being pursued in bankruptcy proceedings by a north Dublin woman who has a High Court judgment of over 100,000 euros against him.
Theresa McGuinness recently succeeded in overturning Mr McFeely's declaration of bankruptcy in the UK.