Royal County Down and Royal Portrush in 'top 10'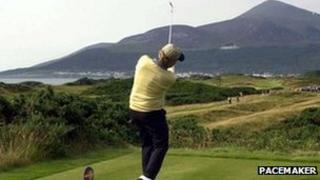 Golf in Northern Ireland has received another boost with two courses being voted in the top 10 of "the World's Top 100 Courses You Can Play", by Golf World magazine.
Number one on the magazine's list was Royal County Down, near Newcastle.
That puts it above some of golf's most famous courses including Bandon Dunes and Pebble Beach in the US; Scotland's Turnberry; and Open venue Royal Lytham and St Anne's.
Also coming in the top 10 was 2012 Irish Open venue Royal Portrush, which was seventh on the list.
Golf in Northern Ireland has experienced an unprecedented high recently after major victories for Graeme McDowell, Rory McIlroy and Darren Clarke.
At the end of June and start of July, more than 100,000 spectators turned up to watch the Irish Open at Royal Portrush.
It was the first time the tournament had been staged in Northern Ireland for more than 50 years.
It was beamed into 350 million households across the world.
Royal County Down was previously voted the top course outside America by US magazine Golf Digest.
The course hosted the Walker Cup in 2007 and the Senior British Open in 2001.
Seven other Irish courses were voted into Golf World's "top 100 courses you can play".
In 18th place was Waterville, in 33rd was Portmarnock Old, the European in County Wicklow was 36th, Ballybunion Old 40th, Lahinch 56th, Doonbeg 64th and County Louth 71st.