National Trust to review Giant's Causeway centre exhibit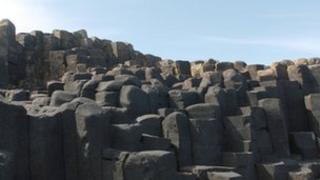 The National Trust is to review a controversial exhibition at the new Giant's Causeway visitors centre.
The audio exhibit gives visitors the chance to learn about the creationist view of how the Causeway was formed.
Creationists believe the Causeway was formed 6,000 years ago. The vast majority of scientists say it was formed 60 million years ago.
The trust said it "did not intend to promote or legitimise any of these opinions or views".
The trust said it had intended to provide visitors with a flavour of the wide range of opinions and views that have been put forward over the years.
"There is clearly no scientific debate about the age of the earth or how the Causeway stones were formed," the trust said.
"The National Trust does not endorse or promote any other view.
"Our exhibits, literature and audio guides for visits to the Causeway stones and this renowned World Heritage Site all reflect this.
"To ensure that no further misunderstanding or misrepresentation of this exhibit can occur, we have decided to review the interpretive materials in this section."
It is understood the review will be completed within the next four weeks.
The Causeway is a Unesco World Heritage Site and features more than 40,000 interlocking basalt columns formed millions of years ago by volcanic activity.
The £18.5m centre was opened by First Minister Peter Robinson and Deputy First Minister Martin McGuinness on 3 July.
The trust said one small part of the centre's interpretive display has caused mixed reactions, "mainly from people reacting to media coverage and online discussions".
Earlier this month, an online campaign was started to remove the controversial exhibition.
The trust said its focus was to ensure that the 700,000 or so visitors it expected to welcome in the coming year would have an enjoyable and informative visit.
It is extending its opening times from 9am to 9pm during the summer.