Michaela photos: McGuinness to meet Mauritian High Commissioner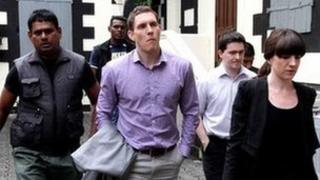 Northern Ireland's Deputy First Minister Martin McGuinness is to travel to London on Thursday to meet the Mauritian High Commissioner.
They will discuss the publication of pictures of Michaela McAreavey's body in a newspaper on the island.
Mrs McAreavey, 27, from County Tyrone, was killed in her room at the Legends hotel in Mauritius in January 2011
The photographs were taken at the crime scene in her hotel room.
Northern Ireland's First Minister Peter Robinson and Deputy First Minister Martin McGuinness said the actions of the Mauritian Sunday Times in publishing the photographs were "callous and unjustifiable".
Mr McGuinness said the pictures of the crime scene compounded the grief of the McAreavey and Harte families.
Mauritian police have raided the offices of the Sunday Times newspaper in Port Louis in search of crime scene photos of murdered honeymooner Michaela McAreavey.
A police spokesman said no photographs were found and no one has been arrested.
Mr Robinson said: "Have the McAreavey and Harte families not already suffered enough? This paper by their actions has inflicted more pain and suffering on them and the decision to print these images is utterly contemptible.
'Anger and horror'
"We will be writing to the government in Mauritius to seek an explanation on why this was allowed to happen and to ascertain what actions they will be taking as a consequence. The actions of this newspaper cannot go unchallenged."
Mr McGuinness said: "There is a deep sense of anger and horror at this development. To date justice has been denied to the McAreavey and Harte families and the publication of these photographs at the end of what has been a very difficult week for them has compounded their grief.
"We are dismayed and astonished at this blatant invasion of privacy. I plan to travel to London on Thursday to discuss the situation with the Mauritian High Commissioner.
"We are also writing to our Attorney General to seek legal opinion on whether any future trial has been in any way prejudiced or compromised by the actions of this newspaper."
The Irish ambassador to Mauritius is to make a "strong protest" over the publication of the photos.
The ambassador will also press for an urgent examination of the murder case.
'Invasion of privacy'
"The ambassador will in the first instance convey a strong protest to the Mauritian authorities at what appears to be the leaking of evidential material to the local media there," said Irish deputy prime minister Eamon Gilmore.
"He will also enquire as to what further actions will be undertaken by the authorities there to investigate the murder."
Mr Gilmore said he had not seen the photographs, which included a full-length image of Mrs McAreavey's body in her hotel room and close-ups of injuries on her neck.
"I would consider looking at those photos to be an invasion of Michaela's privacy and the privacy of her family," he said.
He said he had spoken to John McAreavey, and that he was very concerned that "an urgent examination of the case be undertaken to ensure that justice will be seen to be done for Michaela, John and their families".
"I believe the Mauritian authorities have a responsibility to ensure that evidence did not come into the hands of the media," said Mr Gilmore.
"I'm very concerned that did happen."
Mr McAreavey and other family members returned home from Mauritius at the weekend, after a gruelling eight-week trial.
Legends hotel workers Sandip Moneea and Avinash Treebhoowoon were cleared of Mrs McAreavey's killing by a jury at the Supreme Court in Port Louis last Thursday, 12 July.