Girl who died following incident at Portballintrae beach named as Bethany Cousins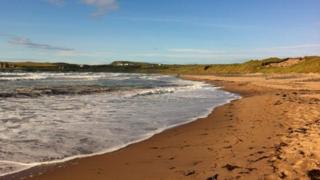 The 11-year-old girl who died after getting into difficulty at a beach in Portballintrae, County Antrim, on Sunday has been named as Bethany Cousins from Lurgan.
The incident happened at Bushfoot Strand which runs from Portballintrae towards the Giants Causeway.
The coastguard helped in recovering the child just after 14:00 BST on Sunday.
Ambulance personnel worked at the scene in an attempt to save the girl's life.
She was then taken to the Causeway Hospital in Coleraine. She died on Sunday night.
Upper Bann DUP assembly member Stephen Moutray knows the child's family.
"The family is well-known and well-respected in the community and our prayers go out to them," he said.
"There's a sadness this morning as the community becomes aware about what has happened and there's a deep sense of sorrow in the community."
Coleraine Ulster Unionist councillor David Harding said the beach was a dangerous one for bathing.
"I want to make sure that the councils, both ourselves in Coleraine and our neighbouring council Moyle, look at how this is signposted to make sure people do know that it's not really a safe beach for swimming," he said.
John Bustard runs a surf school close to the beach.
He said his thoughts went out to the girl's family.
"We're all just devastated here because it's just awful when these things happen," he said.
"This is a dangerous beach."
He had been surfing in the water a short time earlier.
"While I was out of the water getting changed, I heard sirens arriving at the golf club. It was a very quick response by all accounts by the emergency services.
"I came out to see if there was anything I could do, but unfortunately it seemed something had taken place further down the beach and quite a number of people were attending to the casualty there."
He advised anyone visiting Portballintrae to bathe in the "little bay in the village".