Belfast rioters will be brought to court - Baggott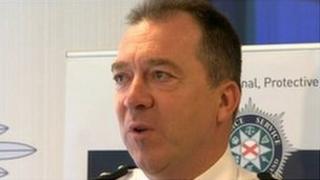 Those involved in violence in north Belfast will be brought before the courts in the coming weeks and months, the PSNI chief constable has said.
More than 20 officers were injured during riots at Ardoyne on Thursday evening.
Violence flared following loyalist Orange parades and nationalist protests in the city's Ardoyne area.
Chief Constable Matt Baggott said those involved had no reason to attack the police.
'Challenge'
"There is no excuse for rioting and violence, albeit it was contained in a relatively small area of Northern Ireland," he said.
"We will be bringing many people to court in the days that follow."
"In time, we will have to understand more about why some parts of Northern Ireland are falling behind and that's a challenge for us all, politicians, police and community alike."
The chief constable said police had video film of members of the crowd fighting among themselves.
"This raises questions for me, not only about the intent of those behind this to foment disorder, but also the sheer lack of control by parents, by community over a significant number of young people who are allowed to riot, virtually without any restraint whatsoever."