Sectarian attack victim Paul McCauley pays for own care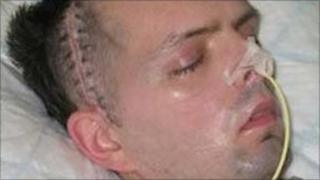 The father of a Londonderry civil servant left in a vegetative state after being beaten in a sectarian attack says his son is having to pay for his own care.
Paul McCauley was attacked by a gang at a barbecue in the Waterside on 16 July 2006.
He will need round the clock care for the rest of his life after suffering severe brain injuries.
His father Jim says the £2,500 a month needed to cover the nursing home costs is being taken out of Paul's civil service pension.
"Paul receives his standard disability living allowance which obviously comes nowhere near to the fee that's required to keep him in a private care home, he said.
"It's another burden on top of the crime and the price Paul has to pay for being an innocent party-goer on private ground. He was attacked by a group of thugs who are still protected by their communities in the city."
Lack of progress
One man, Daryl Proctor, is serving a 12-year term for grievous bodily harm over the attack.
Police have said their investigation remains "active and ongoing".
Jim McCauley said he was disappointed at the lack of progress.
"There's a frustration that the people who did this are still walking the streets," he said.
"The police investigation has meandered and we're quite unhappy with the direction that that took.
"Nobody has been brought before the courts for the attempted murder of Paul and his friends and there is a frustration that there are people in this city who are protecting would be murderers."