A5 road upgrade 'to get go-ahead' after public inquiry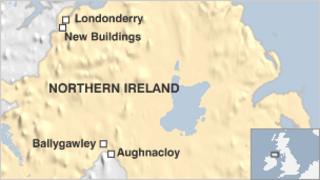 A public inquiry into the controversial A5 road between Londonderry and the border has found in favour of the scheme going ahead, the BBC understands.
The proposed scheme to upgrade the A5 to dual carriageway runs for 85km (53 miles), between Newbuildings outside Derry and Aughnacloy in County Tyrone.
It has recommended postponing the final stretch between Ballygawley and Aughnacloy until there is more clarity on how the road will connect with County Monaghan.
The public inquiry attracted more than 2,000 objections to the plan, and its results will be released soon.
The inquiry was ordered by the former regional development minister minister Conor Murphy in May 2011 into the environmental impact of the scheme and vesting issues around it.
At 85kms - nearly 55 miles - long, it is the longest road scheme ever undertaken in Northern Ireland.
It aims to create a key cross-border business route linking Dublin to the north west.
The scheme will mean the demolition of around seven homes.
The inquiry has recommended the Department for Regional Development (DRD) carry out a review to see if the impact on affected farms has been adequately addressed.
It is also to continue discussions with affected landowners to try to resolve any outstanding difficulties.
The ultimate say on the road plan lies with current DRD minister Danny Kennedy.
The Stormont Executive has already committed £330m towards building sections of the road.
The overall cost is expected to be £850m, £400m of which was to be paid by the Irish Republic. It later withdrew this and offered £50m instead.
BBC NI Business Correspondent Kevin Magee said: "I think there will be a real push to get this under way, possibly beginning after the summer and get it running as soon as possible."
Legal challenge
However, John Dunbar, from the A5 Alternative Alliance, said they might consider taking legal action against the project.
"The (regional development) minister, when he visited Omagh recently, suggested that the only other course of action open to us was to seek a judicial review.
"So I suppose we'll have to give thought to that," he said.
SDLP West Tyrone MLA Joe Byrne welcomed the inquiry's findings.
"This is a very positive and progressive move which should now remove any legal impediment for work on the Newbuildings to Strabane and the Ballygawley to Omagh stretches of the A5 to begin in September," he said.
"I look forward immensely to that work commencing and being conducted swiftly and efficiently to provide a high-quality roadway which will benefit individuals and businesses in this part of the North and further afield."