Bloody Sunday: Police to investigate Derry deaths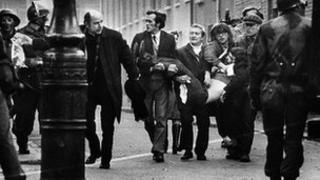 The police are to launch a murder investigation into the deaths of 13 people shot dead by soldiers in Londonderry on Bloody Sunday in 1972.
The move comes after the PSNI and Public Prosecution Service reviewed the findings of the Saville inquiry, which said none of those killed was armed.
The police investigation is expected to take at least four years and involve a team of 30 detectives.
Police have said no decision has been made as to when it will start.
Chief constable Matt Baggott told the Northern Ireland Policing Board: "It is a matter that I think we should be investigating and will be investigating."
Assistant Chief Constable Drew Harris added: "That will be a large investigation obviously and setting aside the resources to properly start that and take that forward is a corporate issue which is under investigation at this time.
"There is not the expertise free and available to undertake an investigation of this size and that is why we are faced with dilemmas around prioritisation.
"The special resources required for this scale of investigation are just not available at this moment to commence an investigation of this scale and length of time."
The Saville Inquiry said the Army had fired the first shots on Bloody Sunday and were to blame for what happened.
It published its report in June 2010, after a 12-year inquiry.
Prime Minister David Cameron issued an apology, describing what happened as "both unjustified and unjustifiable."
Some relatives of victims said they wanted the soldiers responsible to be prosecuted for murder and attempted murder.
The PSNI on Thursday confirmed it is to launch a murder investigation.
John Kelly, whose brother Michael was shot dead on Bloody Sunday, said: "It certainly is good news but it was something we were expecting anyway.
"My view on it at the time was these soldiers should have been arrested straight away and prosecuted on what came out of the Saville report.
"But certainly after hearing what we heard today it's a step in the right direction because myself, my family and most of the families want prosecutions."
Bloody Sunday occurred on 30 January 1972 - a civil rights demonstration through the streets of Derry in the north-west of Northern Ireland ended with the shooting dead of 13 civilians by the British Army.
Fourteen others were wounded.
The Saville Inquiry cost £195m and was the longest-running and most expensive inquiry in British history.
'Whitewash'
Lord Saville was appointed in 1998 by then Prime Minister Tony Blair to look into the events of Bloody Sunday.
It followed an earlier official inquiry in 1972, led by the Lord Chief Justice Lord Widgery, which was described as a "whitewash" by the families of the victims and their supporters.
Lord Saville said he had the impression that people in Derry were as upset by the Widgery Report as they have been by the events of the day.
Among the inquiry's findings were:
No warning had been given to any civilians before the soldiers opened fire
None of the soldiers fired in response to attacks by petrol bombers or stone throwers
Some of those killed or injured were clearly fleeing or going to help those injured or dying
None of the casualties was posing a threat or doing anything that would justify their shooting
Many of the soldiers lied about their actions
The events of Bloody Sunday were not premeditated
Northern Ireland's Deputy First Minister Martin McGuinness, Sinn Fein, was present at the time of the violence and "probably armed with a sub-machine gun" but did not engage in "any activity that provided any of the soldiers with any justification for opening fire"