Ulster Bank customers face financial hardship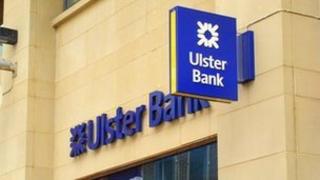 The continuing problems resulting from technical failures at RBS, the parent company of Ulster Bank, have left many customers in Northern Ireland unable to access cash or pay their bills.
Businesses have also been affected since the bank's computer system failed on 19 June.
Mark - partner in small family business
"We keep everything well balanced, what comes in, goes in," he said.
"We just get a wage, we just get by.
"I have customers that owe me and they're with the Ulster Bank but I don't bank with the Ulster, I'm with Santander.
"All I want is to be able to run my business and feed my family, to be able to take a wage home.
"I can't go to my suppliers and say to them, I can't pay you for another couple of weeks because some of my customers can't pay me. What if I lose an agency that is giving me business?
Cathal Hagan - owner of H2 Engineering, Dungannon
"Roughly three weeks ago Ulster Bank took the BACS (Banker's Automated Clearing Services') payments out," he said.
"I have 25 employees at my Dungannon branch, the BACS payments came out and went to Ulster Bank but they did not transfer it onto my employees, so it hasn't gone into their accounts.
"When they went on Friday evening to take out their money, there was no money in their accounts, yet it has come out of H2 Engineering's account.
"I've had to pay them twice.
"If you take that my average employee is getting around £300 a week, multiply that by 25, that is only one of my companies.
"We have a viable business, but I do know others who are in a difficult position at the minute and if it keeps going, they'll be crucified.
Mum-of-two Natalie
"I've had two payments of tax credits and one payment from my wages and I haven't been able to collect a single penny of it," she said.
"The cash machine is actually saying that I'm in the red, but I have £600 in the bank.
"I'm coming down to the bank constantly, trying to get seen, but between work and kids, you haven't got enough time, as you're rushing back to work or to the kids.
"They're opening their branches a bit longer, but they could be doing a lot more.
"They should have had it fixed by now. This length of time for a bank to be closed is absolutely ridiculous.
"People need their money, people are out there working, they have a right to access their own money."