Ulster Bank locates firm's 'missing' £50,000 payments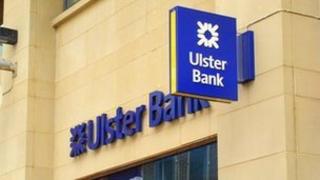 The Ulster Bank has located £50,000 in electronic payments made to a small business, that had been missing.
The payments to NIAVAC, based in east Belfast, had been made over the past two weeks but owner James Conlon had been unable to locate them.
He was informed by the bank on Wednesday that they had been found.
A technical failure on 19 June has affected many customers' accounts across the Royal Bank of Scotland (RBS) group since then.
The backlog at RBS and NatWest has been cleared but is still affecting thousands of Ulster Bank customers.
Mr Conlon said the situation had badly affected small businesses like his and he called on politicians to take action.
He said the problems at the bank had had a "noticeable effect" on NIAVAC's cash flow.
Mr Conlon said although he had paid staff, some were still unable to access their salary two weeks later.
The company supplies audio visual equipment and its recent clients have included the new Giants Causeway visitor centre which opened in County Antrim on Tuesday and the new Erne Hospital in County Tyrone.
NIAVAC does not bank with Ulster Bank but one of its major clients does use the bank.
MPs from Northern Ireland are to meet senior RBS executives to discuss the Ulster Bank cash crisis on Wednesday.
The meeting, attended by DUP and SDLP MPs, will take place at lunchtime at the RBS offices in London.
'Priority'
Speaking ahead of the London meeting, north Belfast MP, Nigel Dodds, said Northern Ireland customers were "querying why customers of NatWest appear to have been given a greater priority than those of Ulster Bank".
"It is completely unacceptable that customers are kept in limbo for weeks without any hope of resolution in sight and very little by the way of information being given to customers," he added.
However, Mr Conlon told BBC Radio Ulster that he did not believe politicians in Northern Ireland were taking the matter seriously enough or doing enough to help local firms.
"I believe that they need to really wake up to what's happening here. I don't believe they have an inkling of how's its hurting the small businesses and people who are just about to head off on their holidays," he said.
Ulster Bank management are also expected to appear before the Northern Ireland Assembly's enterprise committee on Wednesday.
'Sequential order'
On Tuesday, the Ulster Bank said it had made steady progress on a huge backlog of transactions and hoped that normal service would be restored by next week.
Its head of retail banking, Stephen Cruise, explained that Ulster Bank customers were experiencing longer delays than those in the rest of the RBS group because transactions had to be dealt with in "sequential order" which was determined by the timeline in which the businesses within the group had been acquired.
He said problems at the RBS had been resolved first, then NatWest accounts were fixed, but Ulster Bank staff were having to deal with knock-on delays from the other banks' backlogs.
The RBS group also said that Ulster Bank payments followed in sequence after those of NatWest and RBS due to the way the technology was set up when the three banks were integrated.
It said it "in no way" reflected any priority given to customers.