Northern Ireland MPs to meet RBS over Ulster Bank crisis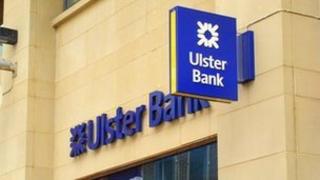 MPs from Northern Ireland are to meet senior RBS executives to discuss the Ulster Bank cash crisis on Wednesday.
The meeting, attended by DUP and SDLP MPs, will take place at lunchtime at the RBS offices in London.
Ulster Bank management are also expected to appear before the Northern Ireland Assembly's enterprise committee on Wednesday.
It has been two weeks since a technical failure left customers unable to access their accounts properly.
On Tuesday, customers were told that the computer problems causing the crisis would not be resolved until next week - causing anger and frustration.
Ulster Bank is part of the RBS group.
Speaking ahead of the London meeting, Nigel Dodds, who will lead the DUP delegation, said: "Thousands of people across Northern Ireland are experiencing severe difficulties because of the long-running saga in Ulster Bank.
"Northern Ireland customers are also querying why customers of Nat West appear to have been given a greater priority than those of Ulster Bank.
"It is completely unacceptable that customers are kept in limbo for weeks without any hope of resolution in sight and very little by the way of information being given to customers," Mr Dodds said.