Owen Paterson considering request for Omagh bombing inquiry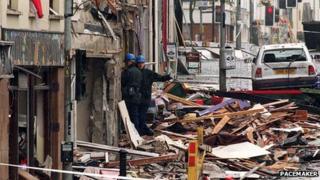 Northern Ireland Secretary Owen Paterson has said he is considering a request for a cross-border inquiry into the Omagh bombing.
Twenty-nine people, including a woman pregnant with twins, were killed in the 1998 Real IRA bombing of the County Tyrone town.
Mr Paterson has repeated the government's policy that there should be no more open-ended inquiries. However, he said he was not yet ready to give his formal response to the Omagh families.
Last month, the Omagh families presented Mr Paterson with a report which they said contained fresh evidence.
The families said they had evidence that authorities on both sides of the border could have prevented the bombing.
Mr Paterson told BBC Radio Ulster's Inside Politics programme on Sunday that those behind the bombing needed to be tried, convicted and jailed.
He said he needed to discuss the report with a number of people including the Chief Constable, Matt Baggott, adding: "I will consider it very carefully."
When the report was presented last month, spokesman Michael Gallagher said Mr Paterson had indicated he would share the information with the PSNI and the justice minister, David Ford.
But Mr Gallagher said they were not optimistic that a public inquiry would be granted.
He said that if the secretary of state refused to authorise one, the families would attempt to overturn the decision with legal action.
There have been no successful criminal convictions relating to the bombing.