Ulster Bank branches opening on Sunday after computer fault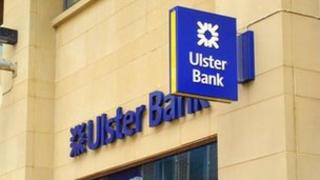 Ten branches of the Ulster Bank were open on Sunday to try to help customers who are continuing to experience difficulties because of a major fault with the bank's computer system.
The bank has warned that problems following a computer breakdown 12 days ago will drag on into next week.
Ulster Bank branches extended their hours at the weekend to deal with customer queries.
Staff are working to clear a huge backlog of uncompleted transactions.
A computer problem has prevented thousands of people from accessing their accounts.
On Saturday, Stephen Cruise of Ulster Bank admitted the huge backlog would not be fixed by Monday.
"Our immediate urgent action is to deal with the customers. We are looking at every eventuality. It is our intention to make sure they are not out of pocket," Mr Cruise said.
"This weekend is key to us to try and catch up time.
"I can see the pain on customers' faces, the challenges and I can equally see the effort the staff are making."
He moved to reassure customers that direct debits due from customer accounts between 21 and 30 June had been paid.
Questions
He also countered criticism that the bank was limiting the amount that customers could withdraw.
On Friday, Finance Minister Sammy Wilson criticised the ongoing delay.
Thousands of customers due to be paid on Friday struggled to get their money and people queued to get into certain banks.
On Friday, Ulster Bank said it had handled 70,000 calls in the past week.
It has updated its website with a series of questions and answers to help customers.
The Department of Finance is deferring customers rates payments due this weekend.
Up to 100,000 customers across Ireland have had difficulty accessing money in their accounts.
Some will not receive their wages or benefits until early next week.