NI scientist makes solar tornado breakthrough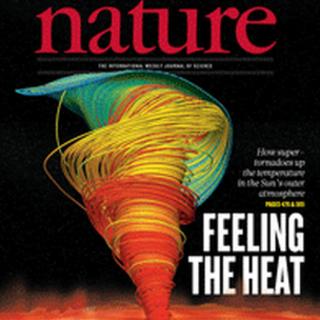 A Northern Ireland man is one of a team of scientists who have made a groundbreaking discovery about tornadoes on the surface of the sun.
Dr Eamon Scullion from County Antrim, and a team at the University of Oslo have solved an important piece of a long-standing puzzle in astrophysics.
It involves magnetic tornadoes which swirl at speeds of 1,100 km per hour on the surface of the sun.
There are as many as 12,000 of these at any time.
They contribute to heating the sun's outer atmosphere.
"It is generally believed that the large magnetic arcades in the solar atmosphere, which are anchored to the bubbling sun surface, can transport outwards the energy required for heating," Dr Scullion said.
"We have discovered an alternative but widespread way of transporting enough energy for atmospheric heating due to relentless twisting of the magnetic arcades at their footpoints."
The team made their finding after studying extremely high resolution observations from the Swedish Solar telescope at La Palma in the Canary Islands.
They also studied data from the Nasa Solar Dynamics Observatory. Putting the information together, they were able to establish the significance of the tornadoes.
The other scientists involved included Dr Oskar Steiner, Dr Luck Rouppe van der Voot and Dr Sven Wedemeyer-Bohm.
"This discovery will change the face of modern day solar and stellar physics research," Dr Scullion said.
He is originally from the village of Loughguile and began his career at St Louis Grammar School, Ballymena, following by Queen's, Belfast, the University of Glasgow and University of Sheffield.
He is currently doing research at the University of Oslo in Norway.
His team's findings have been published in the Nature Journal of Physical Science .
Solar physicists from Norway, Germany, Sweden and Sheffield were involved in the discovery.