Tamboran plans to begin fracking in Fermanagh in 2014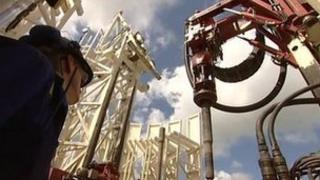 The exploration company Tamboran hopes to begin the process of extracting shale gas in Fermanagh by early 2014.
The Australian-based energy firm is due to outline its plans to the Stormont Enterprise Committee on Thursday.
Hydraulic fracturing, also known as fracking, involves drilling down and creating tiny explosions to crack hard shale rocks to release the gas inside.
Critics say it can pollute water and cause minor earthquakes. Tamboran insists the process is safe.
The company is now looking for appropriate sites to buy or lease in south west Fermanagh where fracking could take place.
It then intends to apply for the appropriate planning permission next year.
If this is approved, it would allow the company to drill a series of test wells and begin fracking for gas in early 2014.