Queen is meeting Martin McGuinness in Belfast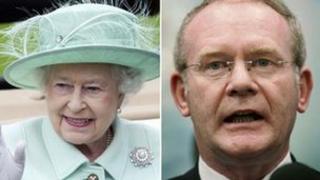 The Queen has arrived at the Lyric Theatre in Belfast where she is meeting the deputy first minister and former IRA commander Martin McGuinness.
A public handshake is expected to take place shortly.
Seven people are present during the initial private meeting, including Prince Philip and the First Minister Peter Robinson.
The Queen is also accompanied by her private secretary Sir Christopher Geidt.
Irish President Michael D Higgins, and his wife, Sabina, are also attending.
The event at the Lyric has been organised by charity Co-Operation Ireland, which works to bring divided communities together.
Earlier, its chief executive, Peter Sheridan, said the handshake would be "hugely significant" and would show people "we are in life beyond conflict".
The cameras will roll as the Queen, Prince Philip, the Irish president and the first and deputy first ministers of Northern Ireland look at paintings and meet leading local artists.
Those present at the Lyric include the pianist Barry Douglas, poet Michael Longley and actors Adrian Dunbar and Conleth Hill.
It is understood the recorded handshake will take place as they are leaving the event.
The BBC's royal correspondent Peter Hunt said: "The first handshake will be in private, that seems to be what all the participants wanted during that ice-breaker meeting.
"Then they will mingle and then they will shake hands as they leave."
BBC Northern Ireland's political editor Mark Devenport said the occasion had been specifically designed to meet Sinn Fein's sensitivities and to ensure that a ground-breaking encounter could take place.
"It is being stressed the arts event has a cross-border dimension and is not part of the Jubilee celebrations," he said.
"That is in contrast to the huge party planned for Stormont, which is a celebration of the Queen's 60-year reign organised by the Northern Ireland Office."
About 20,000 people are expected to attend the event at Stormont on Wednesday.
The Queen and the Duke of Edinburgh arrived in Northern Ireland on Tuesday for a two-day visit.
The royal couple stayed at Hillsborough Castle overnight.
On Tuesday, the Queen met relatives of the victims of an IRA bombing in Enniskillen, County Fermanagh, 25 years ago.
The royal couple also attended a service of thanksgiving at St Macartin's Cathedral in Enniskillen, to mark her 60-year reign, before meeting about 100 people at St Michael's Catholic Church in the town - believed to be the first time the Queen has visited a Catholic church in Ireland.
The Queen also visited the new South West Acute Hospital.
There will be live coverage of the Queen's Diamond Jubilee visit at 14:45 BST on BBC Two NI and BBC Radio Ulster on Wednesday, with live streaming online on the BBC Northern Ireland news website.