Tricolour and queen sign appears on Belfast hillside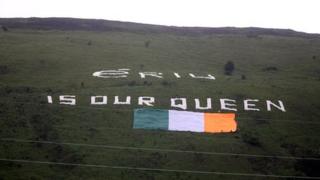 A large Irish tricolour has appeared on the hills above west Belfast, with the message: 'Ériu is our Queen'.
North Belfast MP Nigel Dodds has criticised the sign.
"The packed streets which greeted the Queen upon her arrival in Enniskillen are representative of the affection and respect which people have for the Queen and the Royal Family, " he said.
The sign "is indicative of a tiny minority who refuse to move forward," he added.
"I would hope that people will not be distracted from this celebration by something, which whilst offensive, is a futile gesture highlighting nothing other than their own failure."
"It is very unfortunate that a small group of republicans cannot respect the views of the vast majority of people in Northern Ireland but have deliberately attempted to provoke a reaction through erecting a large sign on Black Mountain."
The DUP have asked police to remove the sign, as has TUV leader Jim Allister.
"This is clearly conduct liable to cause a breach of the peace. I look forward to swift action from the police," said Mr Allister.
Ériu is a mythological figure of Tuatha Dé Danann, an invading people that supposedly lost to the native Fir Bolg at the Battle of Moytura.
Both sides were getting ready for battle but instead decided to have a brutal hurling match instead. The Fir Bolg won.
Ériu would have been considered a goddess, and subsequently became the personification of Ireland, much like Britannia.
The artists involved are presumed to be drawing on this imagery, and not the fact that she was from the Tuatha Dé Danann - a people that invaded Ireland.