Down and out in Alicante airport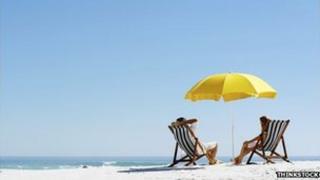 It turned into the holiday from hell.
Joseph May, 29, from Derriaghy, Lisburn, was really looking forward to his break in sunny Spain.
But la paloma blanca was about to drop a whole heap of hassle on his head.
In all his holiday fantasies, Joseph, an Ulster Bank customer, had not imagined the one about a penniless weekend in Alicante airport.
A bag of cheap patatas bravas and a morning wash in the airport toilets is never Spanish for "relaxing break".
It was the Ulster Bank technical fault that caused his woes.
He was due to go on holiday to Spain at 06:00 BST on Friday 22 June, he explained.
On Thursday, he rang the bank to ensure that his salary which was due would be paid in.
"They made out it would be fine. But when I got to Alicante airport I couldn't get at my money," he explained.
Without the funds, he could not pay for his rental car or his accommodation.
"I rang Ulster Bank and they said there was nothing they could do. So, I asked them to update money on my credit card, so I could get cash that way. They said they couldn't do this either," he explained.
He was stranded for the next three days in the airport.
"All weekend I've been stuck in an airport with no money for food or drink and I've been washing myself in the airport toilets," he complained.
On Monday, the bank increased the limit on his credit card, allowing him to have half a holiday - he is due back on Thursday.
"There was no reason they could not have done this on Friday. I told them you are leaving me stranded but they said there was nothing that they could do," he said.