Armed Forces flag to fly for six days at City Hall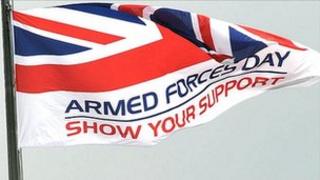 The Armed Forces Flag is to fly from Belfast City Hall for six days next week.
The Ministry of Defence had requested that Armed Forces Day should be marked by flying the flag for a full week.
A motion to fly the flag for six days was discussed at a special meeting of Belfast City Council on Thursday night and was supported by Alliance, DUP and Ulster Unionist members.
Sinn Fein Councillor Conor Maskey said he was disappointed with the outcome.
General Sir David Richards from the Ministry of Defence wrote to councils across the UK asking them to fly the flag from Monday 25 June.
Although the letter was dated 2 April 2012, Belfast City Council did not receive it until 11 June.
The full council had not been scheduled to meet before 30 June.
In previous years, Belfast City Council has flown the flag for one day only.
Ahead of the meeting, SDLP councillor Tim Attwood said he would oppose the motion.
'Offence'
"There are many citizens who support the armed forces, many who lost their lives and many who were injured, but we know the role of the armed forces in the north has been particularly difficult.
"As a party that is opposed to violence and opposed to war in Afghanistan and Iraq, we have consistently opposed the flying of the Armed Forces Day flag over City Hall."
Earlier in the week, DUP councillor Lee Reynolds said his party would be supporting the MoD's request, as they had done in previous years.
He said it was wrong to presume that the flag would cause offence to nationalists.
However, the Sinn Fein leader on Belfast City Council, Jim McVeigh, said he would be unhappy for the flag to fly for even one day and that it would cause offence to many in the nationalist community.
Some other councils in Northern Ireland, including Derry City Council, did not receive any request to fly the Armed Forces Day flag this year.
Armed Forces Day is on Saturday, 30 June, 2012 and will be the fourth year of the event.