Rory McIlroy mural to "brighten up" Belfast's Holyland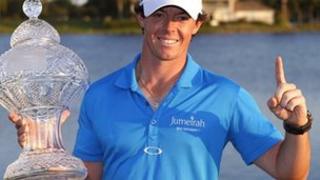 Belfast's Holyland area is to get a new mural - of Holywood golfer Rory McIlroy.
The new mural will be a "very positive" step for the area, a local landlord has said.
Declan Boyle is one of a group of private landlords who have vowed to improve the image of the area.
Speaking to the BBC, Mr Boyle said the mural sent out a positive message that "if you work hard enough at what you do you can achieve" and that is the sentiment he and other landlords want to spread within the large student population of the Holyland.
The idea for the mural began to take shape at the start of the year when McIlroy was awarded an honorary degree from the University of Ulster.
Local artist Danny Devenny was commissioned to paint the mural, which is located at the end of Damascus Street.
Mr Boyle hopes that the new mural of one of Northern Ireland's best known sporting heroes will "brighten up the corner", as well as being an inspiration to residents.
As for future plans for the area, Mr Boyle is in favour of recognising other leading lights who have an association with the Holylands and wider university area.
"There is definitely room for more," he said, citing former leader of the UUP Lord Trimble, former Irish President Mary McAleese and Irish rugby star Tommy Bowe as just some of the famous faces who have an association with the area.
"We have so many people from here who are leaders in their field and we take it for granted.
"Their achievements ought to be acknowledged."