Justice minister told to reconsider Christy Walsh compensation move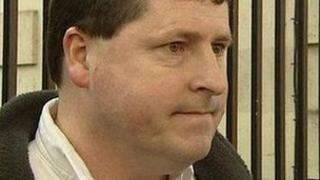 Justice Minister David Ford must reconsider his decision to refuse compensation to a west Belfast man whose conviction for possessing explosives was overturned, the High Court has ruled.
A judge held that a complete review of the evidence was not carried out before Christy Walsh was denied a pay-out.
Mr Walsh, 48, served 14 years in prison for a coffee-jar bomb he was alleged to have been carrying when stopped by soldiers in Lenadoon in 1991.
His conviction was ruled unsafe in March 2010, following an unprecedented third appeal.
Evidence
However, the Court of Appeal did not declare him demonstrably innocent - a status which normally paves the way for compensation.
Even a landmark Supreme Court ruling which lowered the test did not allow Mr Walsh to qualify.
He was still refused payment by Mr Ford's department on the basis that the evidence against him was not so undermined as to make a conviction impossible.
Mr Walsh brought judicial review proceedings against the Department of Justice over its handling of his application for compensation for a miscarriage of justice.
Mr Justice Weatherup suggested on Tuesday that a judge may be better placed to carry out the assessment.
He said that the Court of Appeal, in quashing Mr Walsh's conviction, was examining the safety of the conviction.
That was described as a different task to the justice minister's determination of whether a defendant should have been convicted in the first place.
'Incomplete'
"I'm satisfied in these sorts of cases it is not for the judge in judicial review to unpick every detail of the minister's decision," Mr Justice Weatherup said.
"But the key part is that the minister should be seen to be making his own assessment of the matter."
The judge said a number of pieces of evidence should be cumulatively taken into account, including the soldiers' statements, the alleged presence of a top IRA man in the area, Mr Walsh's explanation for his presence, residue and fibre transfer, and fingerprint evidence.
"There are a number of respects in which I feel that the department's review of the evidence is incomplete," the judge said.
"What I propose to do is refer the matter back to the department to reconsider its decision."
He added: "It seems to me it's a decision for the minister to make... rather than the court making a declaration which, it seems, would be usurping the minister."