Omagh bomb victims' relatives meet Owen Paterson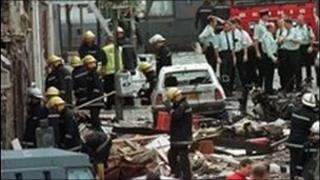 Relatives of victims of the 1998 Omagh bombing have presented the Northern Ireland secretary with a report which they say contains fresh evidence.
Twenty-nine people and unborn twins died in the Real IRA atrocity.
The families say they have evidence authorities on both sides of the border could have prevented the bombing.
Spokesman Michael Gallagher said Owen Paterson indicated he would share the information with the PSNI and the justice minister, David Ford.
Legal action
Speaking after the hour-long meeting at Hillsborough on Monday, Mr Gallagher said they were not optimistic that a public inquiry would be granted.
He said that if the secretary of state refused to authorise one, the families would attempt to overturn the decision with legal action.
No-one has been successfully criminally convicted of the bombing which devastated the County Tyrone town.
Mr Gallagher, whose son Aidan was killed in the bombing, said earlier that Taoiseach Enda Kenny had not yet responded to their repeated requests for a meeting.
He said the report was produced by a London legal consultancy firm which they commissioned to "look at all the inquiries and investigations that had taken place on both sides of the border".
'Piecemeal'
"Up to this point, we have had a number of separate investigations looking at particular areas in a piecemeal fashion," he said.
"What this report has done is filled in the gaps and pulled everything together.
"It leaves some very significant questions to be answered, and we believe the only way to do that is a cross-border public inquiry."
One of the report's authors was Martin Bridger, who led the Police Ombudsman's investigation into whether the bombing could have been prevented.
The report's findings cannot be made public because some of its contents are legally sensitive, but they are seeking permission from a judge to publish it, Mr Gallagher added.