Pope Benedict says Irish Catholic Church has been shaken by abuse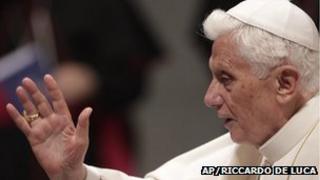 The Pope has said the legacy of the Irish Catholic Church has been "shaken in an appalling way" by the sexual abuse of children by the clergy.
He made the remarks in a recorded message from Rome to mark the end of the Eucharistic Congress in Dublin.
Pope Benedict said some members of the religious orders in Ireland had "abused people and undermined the credibility of the Church's message".
The closing ceremony took place in the city's Croke Park stadium.
'Sins'
The Pope told Irish Catholics attending the Congress that they were the "heirs to a Church which has been a mighty force for good in the world".
He said: "Ireland has been shaped by the Mass at the deepest level for centuries, and by its power and and grace generations of monks, martyrs and missionaries have heroically lived the faith at home and spread the good news of God's love and forgiveness well beyond your shores."
However, the Pope added that the "great history" of the Irish Church has "recently been shaken in an appalling way by the revelation of sins committed by priests and consecrated persons against people entrusted to their care".
The Catholic Church in Ireland has been rocked by a number of high profile clerical child abuse scandals in recent years.
'Mystery'
Its hierarchy has also been heavily criticised over its handling of the sex abuse allegations in three damning Irish govenment-backed inquiries.
Pope Benedict asked: "How are we to explain the fact that people who regulary received the Lord's body and confessed their sins in the sacrement of penance, have offended in this way?
"It remains a mystery," he said.
The Catholic Church's International Eucharistic Congress is held every four years.
The next is due to take place in 2016 in the city of Cebu in the Philippines.