James Joyce's 'Bloomsday' is celebrated in Dublin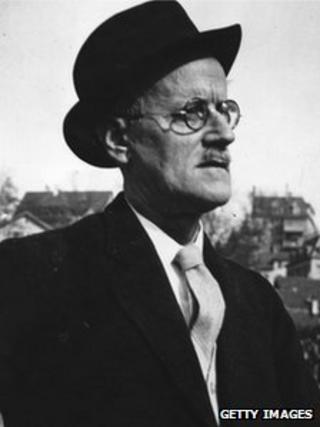 A series of events is taking place across Dublin on Saturday to mark Bloomsday in honour of one of Ireland's most famous writers, James Joyce.
The city celebrates Bloomsday every year on 16 June in tribute to Leopold Bloom, a fictional character in Joyce's groundbreaking novel, Ulysses.
The story follows an ordinary day in the life of Leopold Bloom as he made his way across Dublin on 16 June 1904.
This is the first Bloomsday since Joyce's work passed out of copyright.
The author died in Switzerland in 1941 and for many years his estate strictly enforced its control over the republication of his works.
At the launch of Saturday's celebrations in Dublin, the Irish President, Michael D Higgins, paid a warm tribute to James Joyce as one of the greatest writers Ireland has ever produced.
Banned
He described Ulysses as "a groundbreaking piece of work" which introduced a "new style of narration" to the novel genre and forced the reader to become an "active participator in the process as opposed to a passive onlooker".
"No longer would we have the traditional all-seeing, dependable narrator of old style fiction who would tell us all we needed to know, requiring little thought or input from us, the reader," Mr Higgins said.
Ulysses is widely regarded as one of the most important literary works of the 20th Century but when it was first published, it was viewed as obscene and was banned in the United States.
Joyce left Ireland in 1904 with his wife Nora Barnacle and only made four return visits to his homeland, the last of those in 1912.
The president said Joyce was one his country's "most famous exiles" who had gone to live abroad because he "foresaw that the writing he wished to do would be difficult in Ireland".
Mr Higgins added that Joyce's seminal work still had relevance in the author's native country.
"Although it was written at the commencement of the last century, Ulysses is a novel that resounds, in many ways, with a particular significance for early 21st Century Ireland, a country going through seismic change and not a little upheaval."
Bloomsday has also been marked by a series of programmes on BBC Radio 4 .