Former hunger striker Thomas McFeely's bankruptcy annulled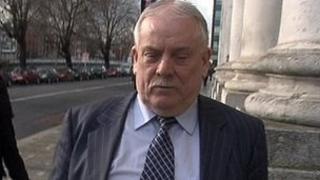 The British bankruptcy of Tom McFeely, an IRA hunger striker turned developer, has been annulled by a court in London.
Mr McFeely had failed to disclose all relevant details in his application.
He is one of Ireland's most controversial property developers - one of his apartment blocks was so shoddily built its residents had to move out over over fears for their safety.
A series of Irish developers have sought bankruptcy in England where the insolvency regime is less onerous.
In the UK the period of bankruptcy typically lasts for a year but in the Republic of Ireland it is at least three years and more commonly 12 years.
The challenge to Mr McFeely came from one of his unhappy customers, Dublin woman Theresa McGuinness.
She fought the case on the basis that she had already started bankruptcy proceedings against him in Ireland. He could now face an Irish bankruptcy.
Tom McFeely is a former Provisional IRA member from Dungiven in County Londonderry. He spent 53 days on hunger strike in the Maze Prison in 1980.
He went on to work as a builder in Dublin before becoming a multi-millionaire developer during the Irish property boom.
In October 2011, more than 240 residents of his Priory Hall apartments development in Dublin were moved out of their homes.
The action was ordered by a court which heard that safety regulation breaches were so serious, a fire could spread through the whole building in minutes.