Aer Lingus to switch to George Best Belfast City Airport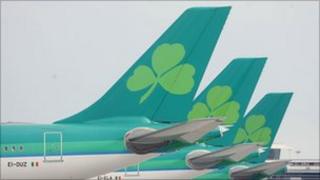 Aer Lingus is planning to switch its operations from Belfast International Airport to Belfast City Airport.
The move follows the City's loss of BMI Baby - which carried 400,000 passengers a year - and gives an indication of the Irish airline's intentions.
Aer Lingus flies to Heathrow and seven European destinations, but it is thought it may expand routes to regional UK airports from the City.
This would fill some of the lost BMI Baby routes and compete with Flybe.
Belfast International Airport has yet to comment on the move.
A spokesperson for George Best Belfast City Airport said: "Following the announcement of the departure of bmi baby we stated that we were confident that we would attract new airlines.
"This position has not changed and we expect to make several announcements in the coming weeks.
"We are certainly not in a position to comment on speculation regarding specific airlines at this stage."
Confirmation from the airline may follow a board meeting next week.
The BBC understands flights could be moved to Belfast City within weeks and that a formal announcement may come in days.
The move will also make George Best Belfast City Airport, Belfast's only Heathrow connection.
With the takeover of BMI by British Airways there had been concerns over that route.
BA has confirmed its commitment to the route but there remains speculation that there may be long-term plans for both airlines to work together on the Belfast-Heathrow connection.
Aer Lingus currently operates flights to Alicante, Barcelona, Faro, Lanzarote, Las Palmas, London Heathrow, Malaga and Tenerife.