David Anderson on how to look after the Queen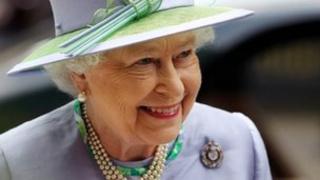 It is just over a week until the Queen arrives in Northern Ireland as part of her Diamond Jubilee tour.
Her visit will include a celebration at Stormont Estate, which will be attended by up to 20,000 people.
Although not all of them will get to meet the Queen personally - for those who do - David Anderson can give them a bit of advice.
For 25 years he was the household manager at Hillsborough Castle - the main residence of the Royals when they stay in Northern Ireland.
He now works at the Montalto Estate in Ballynahinch - but still remembers what it was like to look after a Queen.
According to him she was not a difficult guest.
"All she insisted on was somewhere quiet, somewhere private, somewhere comfortable to sit in between engagements," he said.
"A blanket, a footstool, things that made it comfortable and more cosy.
"A table to set her glasses on or if she wanted a drink.... and of course, very importantly, a selection of local books. "
When it came to food, he said the Queen liked it to be sourced locally.
It was the same for the flowers placed in her room which, incidentally, had to be removed before she slept at night.
Although David said there were no hard and fast rules about how you should behave if you met the Queen, he thinks it is well-mannered to use the traditional forms of greeting.
"For the gentlemen it was always very easy because it was always just a simple neck bow.
"But for the ladies it was deemed appropriate that they should curtsey at the point of introduction and it's always a very elegant thing to do."
Of course, it is only elegant if you know what you are doing. Basically, David said a real curtsey is putting one leg behind the other, bending your knee and bowing your head at the same time.
He thinks it is something that should be done as she walks past or if you are introduced to her formally.
And if you are one of those who get to speak to the Queen and if you do want to follow the rules - remember it is "Your Majesty" the first time you address her and "Ma'am " subsequently.
Ten thousand free tickets for the event at Stormont Castle go on release from 09:00 BST on Tuesday.
Members of the public can apply for them through the Ticketmaster website and the Ticketmaster 24hr Call Centre (0844 2774455).