Arlene Foster criticises Co-operative Group over fracking film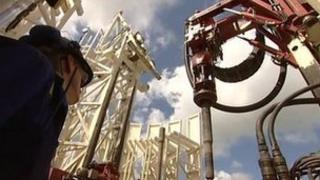 The energy minister has attacked the Co-operative Group over the showing of a documentary opposing fracking.
Fracking is the controversial method of extracting gas from shale rock.
Arlene Foster claimed the film was biased, and said the Co-op's decision to sponsor the screening was misplaced. The Co-op has rejected her criticism.
Earlier this year, energy firm Tamboran said it had discovered a substantial gas field in County Fermanagh which could be exploited by using fracking.
Critics have campaigned against the controversial method of gas extraction which they say can pollute water and cause minor earthquakes.
In March the Co-op group - which runs almost 5,000 stores across the UK and prides itself in ethical trading - sponsored the showing of an award-winning, anti-fracking documentary called Gasland at a venue in Belfast.
In a strongly worded letter, seen by the BBC, energy minister Arlene Foster wrote to the Co-op in Northern Ireland questioning its support for a film, which she claimed, was sensationalist.
The minister told the Co-op: "The strapline on your corporate website claims in large bold characters, 'We're taking ethics to the next level.'
"I find this claim hard to reconcile with your demonstrable support for a film which presents a wholly one-sided and partial approach to the debate about hydraulic fracturing.
"Perhaps you might feel that your apparent endorsement of the screening of the film 'Gasland' is misplaced."
The minister also said: "I firmly believe that Northern Ireland needs to explore the potential shale gas offers."
In its response, the Co-op Group, which is the largest mutual business in the UK with a turnover of £13bn, stood over its opposition to fracking, and defended screening the film.
Co-op regional secretary Gerard Hill told the minister: "The Co-operative is campaigning for a moratorium on the exploration of shale gas, at least until all the risks and impacts are properly identified and addressed.
"The event comprises a screening of Gasland followed by an open discussion on what shale gas development might mean for Northern Ireland.
"We do not 'endorse' Gasland but view it as the starting point for an informed debate."
The Co-op invited the minister to attend the screening of the film, and said it would welcome her participation in "this important debate". Mrs Foster declined the invitation.
The Belfast event was one of a number of screenings of the film that the Co-op sponsored across the UK which included an after-show discussion on fracking.
Mrs Foster told the BBC's Talkback programme she was not taking sides in the fracking debate.
"Any suggestion that this was a balanced event is laughable," she said.
"The Co-op is entitled to hold a one-sided event, but I wanted to bring balance to it because it's important to get all the information in a non-sensational way."