Visitors to Belfast Titanic project top 200,000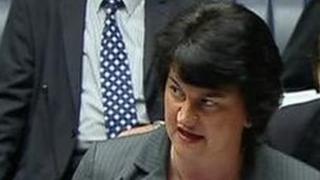 Belfast's Titanic Signature complex hosted 200,000 visitors in the two months since it opened, Enterprise Minister Arlene Foster has revealed.
The figures augur well for the £77m project which has an annual target of 450,000.
It was officially opened at the end March by the Assembly's first and deputy first ministers.
Earlier this year, it was predicted that the centre would need 290,000 visitors a year to break even.
Visitors are guided through nine exhibitions, spread over four storeys, charting the history of the Titanic from its construction in the nearby Harland & Wolff shipyard to its final resting place at the bottom of the Atlantic.