Former UUP advisor, Dr Steven King, is 'critically ill'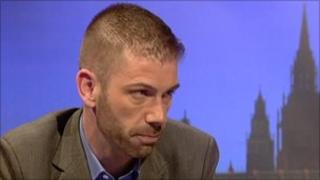 Steven King, a former adviser to the Ulster Unionist Party (UUP) leader David Trimble, is understood to be critically ill in a hospital in India.
The 38-year-old advised Mr Trimble during the 1990s, at some of the most crucial moments in the peace process.
Lord Trimble's wife, Lady Daphne Trimble, said she was "very concerned" for him.
Lord Kilclooney, who worked with Mr King for many years, said he was "shocked" and "terribly upset".
Mr King previously ran Lord Kilclooney's UUP constituency office in the County Down town and the peer described him as "one of the most gifted people" he has ever met in politics.
He added that many people in Strangford were upset by the news and said he understood his mother has travelled to India to be with him.
Mr King is now a director with APCO, the global corporate affairs and communications company.