Caral Ni Chuilin says Sinn Fein not consulted on Jubilee party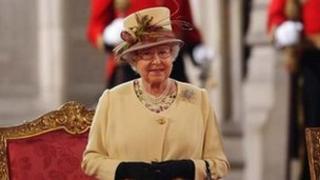 The culture minister has criticised the Northern Ireland Office (NIO) for announcing a celebration of the Queen's Diamond Jubilee in the grounds of Stormont without consulting Sinn Fein.
Caral Ni Chuilin said she would not be attending the event on 27 June.
The party is being held during the Queen's two-day visit later this month.
Ms Ni Chuilin told the Sunday Politics programme that she heard about the event through the media when it was announced on Friday.
"It hasn't been agreed by the executive," she said.
"I assume this is something that has been concocted by the NIO in discussions probably with the DUP.
"What we need to remember is that Stormont is a place, a shared site, the fact that this has been done without any discussion with ourselves sort of jars with me to be honest."
The culture minister said not knowing about the party was an obstacle in her party's decision whether or not to meet the Queen.
"We may be asked to make a decision about who will meet or may not meet the Queen," she said.
Invitations
The event will be held in the grounds of Parliament Buildings.
Representatives from youth organisations, the emergency services, government departments, local councils, health trusts, ex-service associations as well as education and library boards are also being invited.
Members of the Northern Ireland Assembly, including the First Minister Peter Robinson are expected to attend the event.
Details on how the 10,000 free tickets are to be distributed to the public will be released soon.
First Minister Peter Robinson welcomed confirmation of the event.
"This will be a fantastic celebration of Her Majesty The Queen's reign in Northern Ireland. It is fitting that such a celebration should take place in the Stormont estate," he said
"The Jubilee event at Stormont will be an historic and unparalleled opportunity for the people to express their devotion and appreciation to Her Majesty for six decades of service.
"As this will be an iconic, unprecedented and historic royal occasion we expect there will be exceptional demand for tickets."
The Queen is due to arrive in Northern Ireland on 26 June.