Nama sells two housing sites in Northern Ireland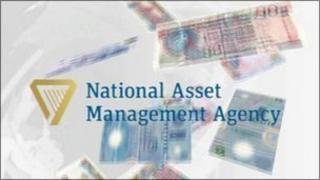 The Irish government's National Asset Management Agency (Nama) has sold two housing sites in Northern Ireland for just over £3.5m.
Nama had repossessed the sites in Waringstown, County Down and at Drumahoe on the outskirts of Londonderry.
The Waringstown site was sold for less than one tenth of the price it achieved close to the height of the boom.
The former owners of both sites have been bankrupted.
The Drumahoe site, which has the potential to accommodate almost 350 homes, was sold by Nama for £2.55m to a company controlled by the Derry businessman Edmund Simpson.
The Beech Meadows development in Waringstown was sold to local firm Arona Developments for just over £1m.
Collapse
The first phase of the County Down development is partially built with a second phase yet to be started.
The previous owner, the developer Fergal McAlinden, paid £11.6m for the site close to the height of the property bubble in October 2006.
Mr McAlinden was declared bankrupt last year after the collapse of his Newry-based building firm Lavelle and McAlinden.
The former owner of the Drumahoe site was Peter McDaid who ran Derry-based McDaid Developments (Ireland).
His firm paid just under £4m for the site in 2003.
The firm was placed into administration in June 2010 owing Bank of Ireland £42m.
Those debts later became the responsibility of Nama.
The administrator of the firm estimated that the sale of the firm's assets will only raise about £8m.
Overheating
The new owner, Edmund Simpson, is best known for his connection to Benedicts Hotel in Belfast which he owns with his brother Patrick.
They spotted that the Northern Ireland property market was overheating.
In 2010, they told the Belfast Telegraph that they "sold whatever we could" when prices were still high with the intention of reinvesting when the market moved.
In the same year they bought Blackstaff House on Belfast's Great Victoria St, which is leased to the BBC.
Another of their firm's, Elmoreton, has also recently agreed to buy a parade of six adjoining shop/ restaurant units on Bradbury Place in Belfast.
The units were previously owned by Kinturk Properties which was placed into receivership by Bank of Scotland Ireland in 2010.